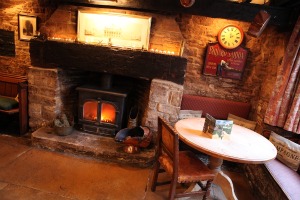 With stunning riverside gardens, elegant furnishings and fantastic food, the Inn at Fossebridge is  set in a charming hamlet of the same name deep in the Cotswolds.
A charming Cotswold retreat with seven elegant en-suite bedrooms, a large open log fire and a superb flagstone floor in the bar. The Inn serves well kept local cask ales and we serve food from 12noon.
The two traditional Cotswold bars are located in the oldest part of the building, divided by stone archways. They are a wonderful retreat,  rustic and cosy, with flagstone floors, beamed ceilings, an open log fire, log burning stoves and mellow Cotswold stone walls.
Enjoy local ales, fine wine and excellent food, combined with high levels of comfort and service. Our menus  offer dishes using fresh produce, from light lunches and Fossebridge classics to hearty main courses.
In the spring & summer months dine al fresco on the terrace or in the beautiful 4 acres of gardens with plenty of wooden tables, chairs & parasols. A wonderful and relaxing spot to enjoy a drink or two, lunch on a sunny afternoon or dinner on a balmy evening. Lakeside Garden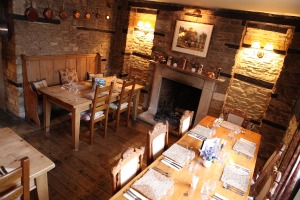 We can also cater for private parties, wedding receptions and events in our two Georgian dining rooms; The COLN & BRIDGE Rooms, overlooking the four-acre gardens and lake.
Walkers Welcome. Child and Dog Friendly
15th August 2012
To all The Staff at The Inn at Fossebridge,
Thank you so much to all the staff who looked after us on saturday night after our car broke down.
We hope to repeat our attempted holiday in The Cotswolds again in September and plan to enjoy your hospitality, delicious food (especially the Croissant bread & butter pudding!) and lovely gardens in a more relaxing situation.
Thank you all for making what could have been a terrible experience with a 2 year old and a baby into a treasured memory!
We eventually arrived home at midnight with a wide awake two year old
Mr & Mrs B (July 2012)
Hi everyone,just wanted to thank you all for making our stay with you such a happy one I did enjoy my birthday.
The lake and grounds are so tranquil and it was nice to have two out of our three day's where we could sit outside with a few drinks and take it all in
Miss Chief said a big woof for making her welcome she is so tired and has been asleep since we have been home
Please pass on our thanks to Peter in the bar very helpful and efficient and the food was delicious
Please also say a big thank you to Robert who told us to go and visit Burford garden centre as I do love my garden and plants well the car was full up by the time we left there good job I don't live nearer
Thank you again everyone it was a relaxing few days. We will be back.
"Excellent Meal !!" 14 November 2011
"On my recent trip to the UK whilst driving through the countryside with friends & family, I discovered this wonderful place. We stopped for a meal and some beer at Fossebridge Inn. The food was excellent and we really loved it…the staff are really helpful and warm and make you feel like you eating in your own home. The ambience is great both inside and outside with lots of natural beauty…Kudo to them."
Claire & Simon Rutland, December 2011
"Staff, room and food could not be faulted. A lovely stay, thanks to everyone"