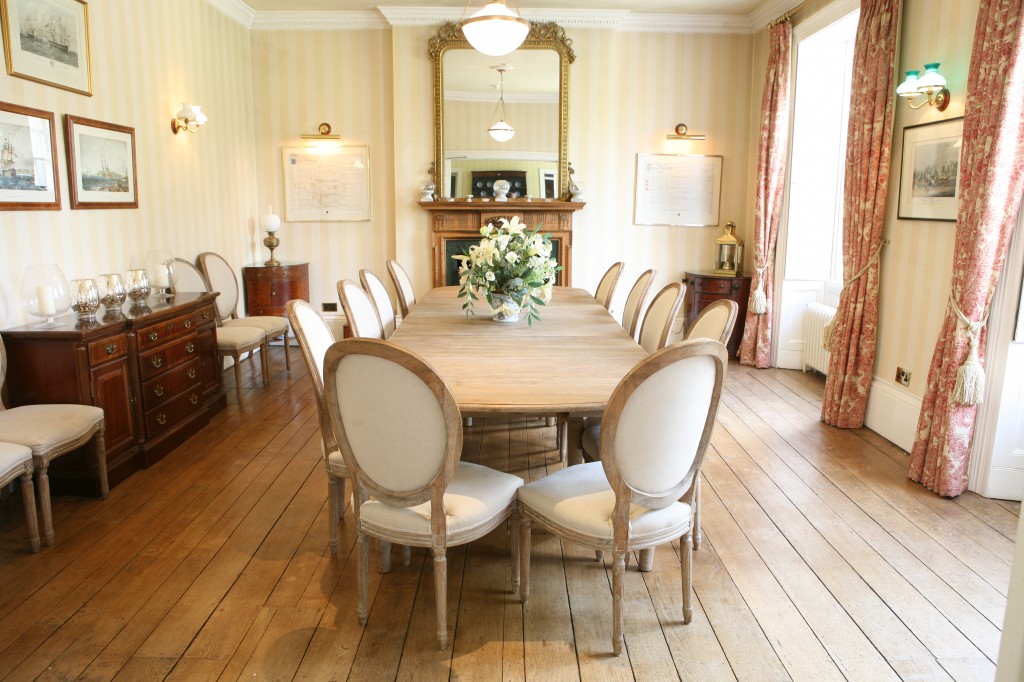 Two elegant Georgian and adjoining private Dining Rooms located within the hotel are available for exclusive use, should you require entertaining space for parties, a special celebration, wedding reception, family celebration, birthday party, christening, shoot lunch/dinner or business meetings.
The Coln Room – overlooks the stunning gardens and is the perfect setting for a family gathering or dinner with friends. The room can comfortably seat up to 16 guests around the large dining table.
The Garden Room offers a larger space, where we can arrange either a seated meal for a maximum of 38 guests.
Both the Coln and Garden Rooms can also be used together to comfortably accommodate up to 58 seated guests or a stand up reception for up to 60 guests.
Alternatively, we can offer guests the exclusive use of The Parlour, which is the back area in our dining pub, which can comfortably seat up to 18/20 guests.
For bookings of 10 or more guests we kindly require a pre-order or selective menu option.
The Inn at Fossebridge is an idyllic Cotswold country wedding reception venue within the Garden Room.
Click here for more information about Wedding Receptions at The Inn.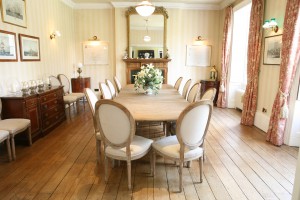 OPTION 1: The Coln Room is light and airy with large sash windows overlooking the gardens, comfortably seating up to 16 guests.  Alternatively the room can be used for a stand up reception for a maximum of 30 guests.
OPTION 2: The Garden Room can be used separately or in conjunction with the adjacent Coln Room and offers an elegant entertaining space. There is direct access to the terrace for a drinks reception and the room has large sash windows overlooking the four acres of beautiful garden.
CAPACITY
Garden Room: up to 38 guests for a seated lunch or dinner
Garden Room: up to 50 guests for a stand up drinks reception/finger buffet
Garden Room: up to 40 guests for a seated conference style business meeting
Maximum capacity for both Coln & Garden Rooms used together: 60 guests for a stand up reception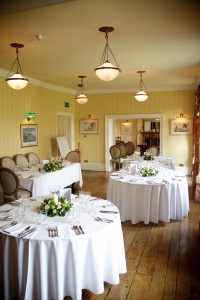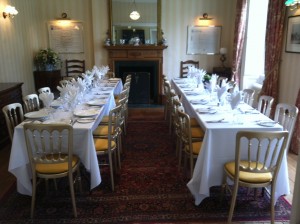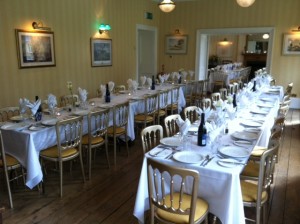 GUESTBOOK
Dear Alison,
Feedback from guests on the event was great and we thank you for the organisation which it involved. Delighted to hear that you try to obtain food locally. Mrs S, July 2012 (Party of 30 guests, 80th Birthday Weekend)
Dear Alison,
Thank you so much for organising the luncheon last Sunday. Everyone enjoyed it, said the food was delicious and I have never seen the children eat so much!Thank you for organising the weather also!! Everyone so enjoyed the relaxed atmosphere. Thank you again (Mrs V, July 2012)
I am writing to thank you from all of us for all your help in making yesterday evening such a success at the end of our treasure hunt. Please will you also pass on our thanks to Peter and the rest of your team, who made us fell very welcome and provided us with an excellent meal. We will be happy to recommend you to any other team planning a similar event.
Yours sincerely
Dr Reynolds (Party of 40 guests, June 2012)
I have been meaning to write to thank you and all the staff at the Inn at Fossebridge for a wonderful birthday lunch for Jon and Liz. We were all delighted with the lovely rooms, the fresh (gluten free) food and the friendly and helpful and staff. Jon and Liz had a great time and our guests all complimented us on our choice of venue! (Party of 22, June 2012)
"Thankyou so much for organising the lunch for us on Sunday. We had a lovely day and people were very complimentary about the food. The little ones loved playing in the garden while the rest of us had a leisurely coffee. It all worked so well from our point of view."
Thank you so much, Kind regards, Mrs D
August 2011, (party of 22 Adults, 6 Children)
"Thank you so much for organising everything so brilliantly last Thursday – we had a wonderful evening and the food and service were once again superb.
I very much appreciate your help and please pass on my thanks to everyone involved."
Best wishes, Mr W, St. James's Place, Thursday 14th July 2011
"Thank you for another wonderful evening – there was a great atmosphere and the everyone seemed very very pleased. The dinner was really excellent."
Thanks again,The Zelkova String Quartet Rectial & Dinner, Thursday 16th June 2011